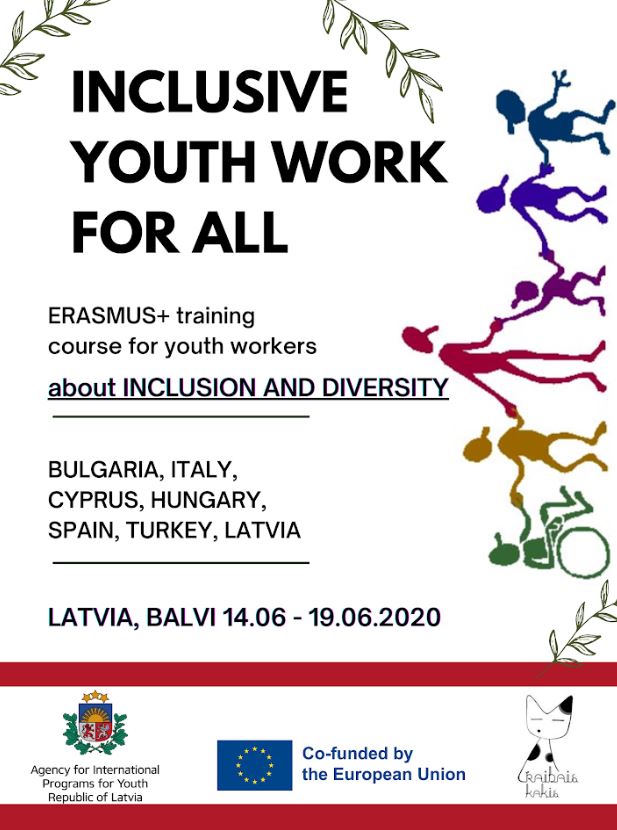 Training Course
14-19 June 2023 BALVI – LATVIA. 6 days training course to gain competences in Inclusion and Diversity topics. The training will gather 21 participants from Bulgaria, Italy, Cyprus, Hungary, Spain, Turkey and Latvia (3 participants per country) and two experienced trainer from Latvia and Spain.
We are looking for youth workers who could consult and help young people with different backgrounds to educate them about environmental issues; young people having more participation experience at the local level – youth leaders who are gathering other youngsters around themselves; and teachers who want to experience non-formal education methodology and use environmental education as a part of their formal education circumstance.
OBJECTIVES:
– Exchange of good practices about Inclusion and Diversity
– Get to know and experience different tools which can be used in working with youth about Inclusion and Diversity
– The creation of non-formal education activities about Inclusion and Diversity
– Participants are becoming more competent in the creation of more Inclusion and Diverse projects, – setting up plans for the future corporation
– Awareness about their own learning process
– Share project results during project implementation and after.
You can download the infopack HERE